Our customers operate in all corners of the globe, flying diverse missions and facing unique challenges. Yet despite this broad spectrum of operations, there is one common thread – every customer is relying on us to provide a quick, efficient and effective solution that keeps them flying, when they need it.
As our worldwide fleet grows, we are continuing to strengthen our global presence. We are continuously investing in our subsidiaries to ensure that we provide support as close as possible to our customers' operations providing customer proximity and intimacy, as well as expanding our global network of service centres around the globe and. Our service centre network now numbers more than 90 locations and we are focusing on the capabilities that matter to customers – areas such as aircraft availability, logistics support, spares availability, and our response to AOG situations.
Despite the well-known issues of the supply chain, which have hit industries worldwide, we continue to invest in inventory management through our logistic centres in order to guarantee spare parts availability in the right place and at the right time.
Investing in a growing network
As a sign of our commitment to be close to our customer, in the past couple of years, despite the pandemic, we have made some important additions to the network that increase our footprint in different geographies. In South Africa, the acquisition of Precision Aviation Services, which now operates as Leonardo South Africa, demonstrates our long-term commitment to Sub-Saharan Africa and strengthens our support and maintenance services in the region.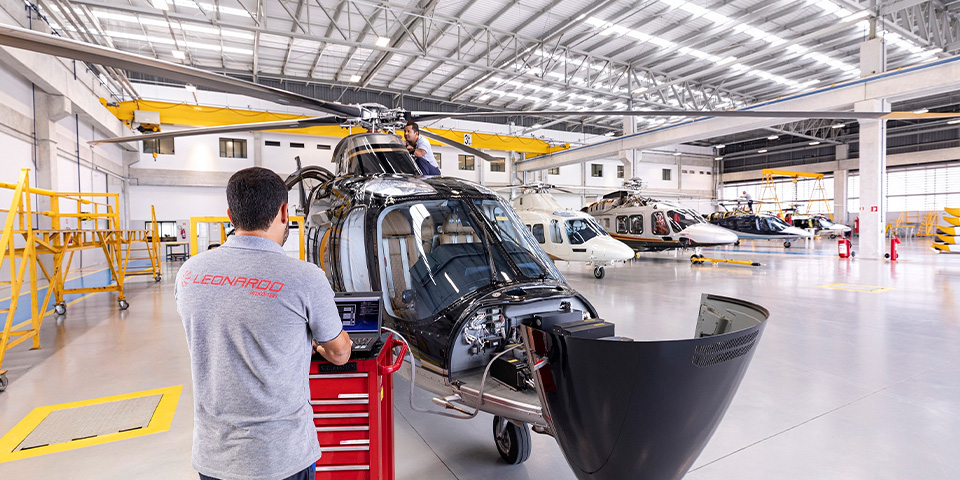 In Brazil, our new helicopter service and logistics centre close to São Paulo, which opened its doors in 2021, has increased our in-country maintenance capacity by more 50% and can host up to 18 aircraft simultaneously. Meanwhile, we continue to invest in Australia, where we have opened a strategically important Maintenance Repair and Overhaul (MRO) facility, which in the future will continue to provide MRO support for transmissions.
We're also increasing our support for operators in Europe, including those in the VIP segment, through a new service centre in France, located at Paris Le Bourget Airport. And we're enhancing the MRO capabilities at our Leonardo Belgium facility in Liège.
But being close to customers is not only about geographical proximity. There is also a cultural aspect – spending time at customers' facilities, listening and learning to gain a deeper understanding of their operations and challenges. Ultimately though, our job is not only to listen but to deliver and this remains our number one focus.
Embracing a digital future
The rapid advance of digitalisation offers significant opportunities to share data and insights in real-time and to make our support services more efficient. Whether that is through remote support offered via collaborative platforms or greater emphasis on predictive maintenance, Leonardo is investing in emerging technologies such as Artificial Intelligence, digital twins and augmented reality, which have the power to enhance maintenance techniques and speed up response times.
We recognise that digital services will also help us to bring the full benefits of our worldwide network to customers – for example by harnessing data that creates a global picture and provides the fastest and most efficient solution to each customer regardless of their location.
Always striving to improve
We have consistently been ranked number one for product support among helicopter OEMs in external surveys over recent years. We have also developed a range of tools inside the company to measure how we are performing in terms of customer service and we use these insights to further improve our approach to customer support activities.
In 2023 and beyond, we will leverage our global presence to support customers wherever they operate in the world with the right combination of local services and full access to the wider Leonardo Helicopters support network.