The rapid march of technology means that a new era where crewed assets such as helicopters can operate in a smart and connected way with uncrewed aircraft systems (UAS) is becoming a reality.
Crewed Uncrewed Teaming (CUC-T) has potential to transform the way operations are conducted across both the military and civil sectors – from airborne surveillance in hostile environments, to search and rescue through to law enforcement.
Leonardo Helicopters is at the forefront of developing CUC-T capability in the rotary wing sector both in terms of platform development and by participating in defence and security exercises at a national and European level. Our position as a leading OEM of both crewed and uncrewed rotary wing platforms and in applying the strictest safety standards gives us a unique perspective on how both types of platforms can be deployed together in an efficient and effective way to deliver a step change in capability.
We're channelling this expertise into providing highly effective and low integration risk solutions that answer customers' demands across a range of missions.
The benefits of CUC-T
CUC-T brings significant capability enhancement by combining the complementary strengths of both crewed and uncrewed platforms. There are numerous advantages, including the ability for forces to conduct extended and complex operations with a mix of platforms and systems.
Roberto Pretolani, Marketing Manager for RUAS at Leonardo Helicopters, comments: "There are several key benefits to CUC-T. While improving overall mission effectiveness, deploying uncrewed and crewed platforms together also reduces the risk to aircrew in high-threat scenarios by improving their situational awareness and it allows pilots to remain at the centre of the mission without increasing their workload. CUC-T also extends operational range because the uncrewed system can operate with high persistency beyond the horizon of helicopters' embarked payloads while providing valuable data to the pilots of the crewed aircraft.
"An additional advantage of conducting operations with a crewed-uncrewed mixed fleet is the increased mission efficiency and the overall cost reduction of the operations as the more expensive crewed asset can be used only when strictly necessary, while relying on the main benefit of a UAS which is its extended endurance. In an era where aircrew fatigue is becoming the limiting factor the combination provides for greater overall persistence.
"For example, AWHero can relay data from a pre-laid sonobuoy field assisting manned helicopters in simultaneous active and passive Anti-Submarine Warfare (ASW) operations and providing Over The Horizon Targeting information to a helicopter held at deck 'alert' to be launched and directed to counteract submarine action.
"Equipped with Leonardo Gabbiano Ultra-Light radar and EO/IR, AWHero can also provide Close Air Support by staying ahead of crewed assets while providing wide area coverage and target designation capability".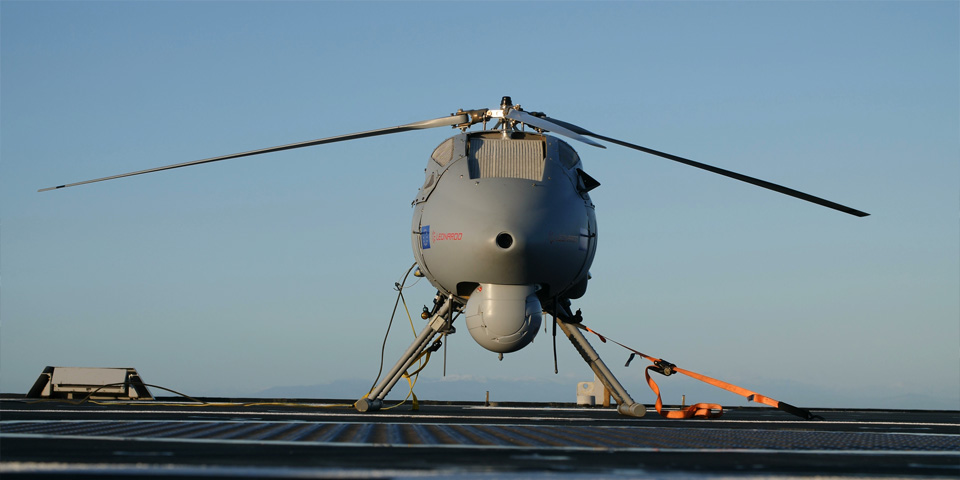 Expertise in RUAS
We have developed AWHero to meet the growing requirements for RUAS. It is a new-generation 200kg-class military-grade tactical platform that can operate in complex maritime and land scenarios. AWHero builds on our extensive experience in rotorcraft development and system integration and, thanks to its modular payload capability, can perform a wide range of tasks including Intelligence, Surveillance Target Acquisition and Reconnaissance (ISTAR), force protection, counter-piracy, maritime and border surveillance, homeland security, and disaster relief.
In 2021, AWHero achieved the world's first military certification for a RUAS in its class with military certification from Italy's DAAA (Direzione degli Armamenti Aeronautici e per l'Aeronavigabilità – the Directorate for Air Armaments and Airworthiness) that confirms system robustness and provides a solid baseline for continued growth in operational capabilities. Capable of remaining airborne up to six hours, the platform features redundancy of all main critical systems and is capable of carrying an array of sensors.
We have also developed the SW-4 SOLO technology demonstrator – an Optionally Piloted Helicopter (OPH) that can operate either with pilot on board or as a RUAS. Based on the proven SW-4 light single helicopter, it allows rapid and low risk inflight testing of new technological solutions and new CONOPs thanks to its high payload capacity. This means the platform can be configured with a range of sensors, including radar, electro-optical/infrared (EO/IR) system and electronic support measures (ESM).
Furthermore, in 2022, Leonardo was awarded by the UK Ministry of Defence of a four-year contract to develop an advanced uncrewed VTOL prototype demonstrating that also in the uncrewed sector Leonardo Helicopters is recognised as a partner of choice for research and innovation.
Demonstrating CUC-T capability
In the past decade we have successfully demonstrated the company's maturing capability in the CUC-T sphere by participating in a series of exercises. These included the European Defence Agency's Exercise Italian Blade in 2015 and the Royal Navy's Exercise Unmanned Warrior in 2016, which involved RUAS integration into a ship's combat management system.
In November 2019, both the SW-4 SOLO and AWHero (embarked on an Italian Navy FREMM class frigate) participated in the OCEAN2020 demonstration – part of the European Defence Fund's military research project into maritime surveillance. The Leonardo-led OCEAN2020 team brought together 43 partners from 15 nations for a wide-ranging exercise in the Mediterranean and Baltic Seas demonstrating how UAS can contribute to the challenges of maritime surveillance, enhancing situational awareness and supporting decision making at tactical and at strategic level.
In 2020 our CUC-T developments entered a new phase when we achieved a significant UK first by successfully teaming an AW159 Wildcat helicopter with a semi-autonomous UAV during the British Army's Warfighting Experiment 19, which took place on Salisbury Plain. The teaming, which involved a UAV from Callen-Lenz Associates, enabled the helicopter crew to effectively control the UAV as if it were part of the aircraft's on-board sensor suite, providing a full integrated solution without reliance on additional crew or hardware.
The AW159 Wildcat test pilots were able to control both the UAV's flightpath and payload – what is known as Level of Interoperability 4. Integrating the UAV into the helicopter's mission system reduced pilot workload, enabling them to focus on the mission while still controlling the UAV. It marked the first time that such an integrated capability was demonstrated on a UK military aircraft.
The trial was conducted with the support of the Defence Science and Technology Laboratory (Dstl) and was a key step towards delivering an effective operational CUC-T capability as the development roadmap continues.
As CUC-T capabilities mature, one of the challenges will be interoperability between the forces of different nations. This is the focus of another international collaboration project Leonardo is part of – the European Union's MUSHER programme which aims to develop and test a scalable European Crewed Uncrewed Teaming system. It will be capable of enabling mixed-fleet operations in the military and civil domain through high levels of interoperability, increased autonomy and improved Human machine interfaces.
We are one of five industry consortium members from four EU nations involved in the project, which has a planned demonstration phase in 2024. AWHero will be one of the platforms involved, potentially teamed with an AW189 helicopter.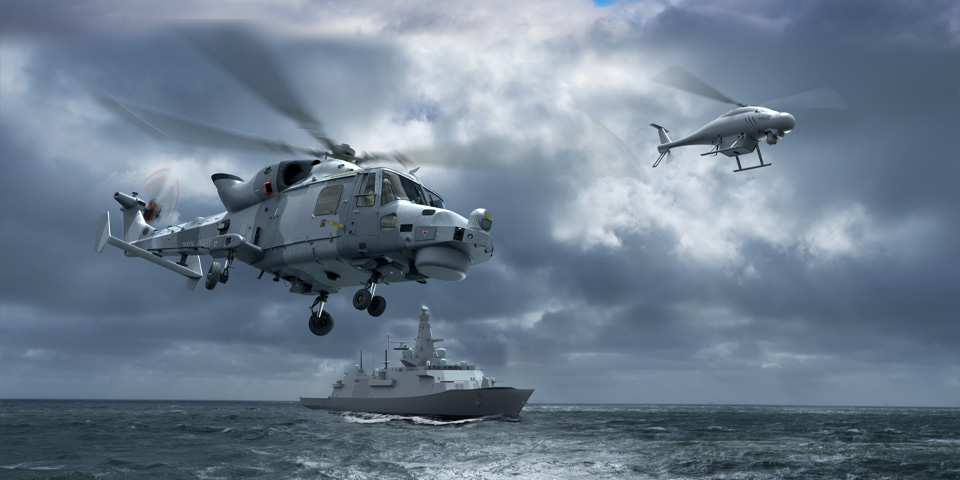 Final thoughts
Teaming of crewed and uncrewed platforms is here to stay. As CUC-T capability continues to evolve in the coming decade, new missions will emerge in both the civil and military sectors. Leonardo Helicopters will be there to meet these emerging requirements, leveraging our unique heritage in rotary wing innovation.