The rapid march of technology means that the training landscape will evolve faster than ever before over the next decade. Across both the civil and military sectors, there is increasing demand for cost-effective, synthetic training delivered locally that blends exceptional levels of realism with the ability to connect multiple platforms, including both crewed and uncrewed air systems.
Leonardo Helicopters' VP of Simulation and Training Services Paolo Petrosso believes that by 2030 the requirements of operators will be radically different to today. Which is why Leonardo Helicopters is investing now, building on the company's expertise as both a helicopter OEM and a training systems integrator. Petrosso explains: "Some of the professionals who will require training at the start of the next decade – their roles do not yet exist. That is the reality. For example, there might be an Artificial Intelligence specialist whose role is dedicated to an uncrewed platform. How do we simulate a completely automated battlefield that replicates the challenges these professionals will face in the real world?
"To remain at the forefront of training technologies in the future, we are developing fully immersive solutions that embrace advances in areas such as AI and augmented reality as well as the power of data analytics to make learning a more personalised experience.
"Of course, there will always be a balance between live training and the synthetic environment, but for sure the direction of travel is towards virtual reality because it offers clear advantages – in terms of safety, time saving, cost-effectiveness and the ability to simulate missions in a fully connected way."
Bringing technologies to life
Our investment in state-of-the-art training technologies is helping pilots, rear crew and maintainers to practise techniques in a safe and highly immersive environment.
One example is MITHOS – the Modular Interactive Trainer for Helicopter Operators – that enables rear crew to enhance their capabilities by recreating a wide range of rescue, offshore and wind farm support missions.
Based on a 1:1 scale helicopter cabin, MITHOS employs augmented reality including use of a visor helmet and smart-touch gloves to accurately reproduce both the cabin environment and the external setting. It gives hoist operators, rescuers and medics the ability to fine-tune interventions and rehearse different operating scenarios.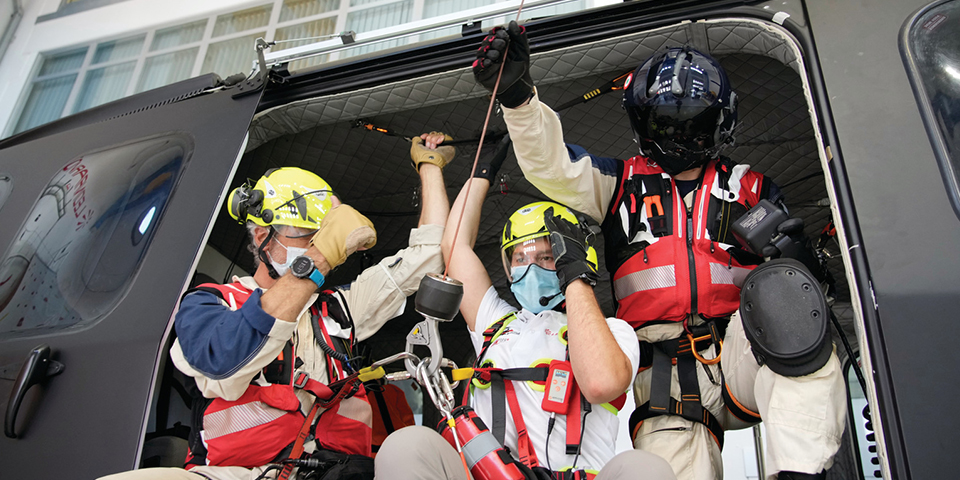 Such training would previously have been carried out in a live helicopter environment, so there are significant time savings as well as sustainability benefits by reducing the need for in-flight training.
Meanwhile, to support pilot training, we have recently launched the VXR – Virtual and Extended Reality – Enhanced Training Device. It brings the same type of fidelity typically experienced in a full-scale Level D simulator, leveraging real flight dynamics and view of the outside world but in small, easily reconfigurable device that is multi-platform by design. You can find out more about the VXR here.
We are also enabling maintenance professionals to develop their skills in an immersive setting. Our Virtual Maintenance Trainer (VMT) provides a full helicopter replica in a synthetic environment, including for example all members of the AW Family – the AW169, AW139 and AW189 – as well as the NH90 and AW101 types. Maintenance teams can effectively see 'under the skin' of the aircraft and practise tasks that might otherwise take days to complete on a real helicopter.
Additionally, thanks to development across multiple Leonardo Divisions, the VMT offers a single platform where helicopters, aircraft or other vehicles can be easily added.

Enabling collaborative training
Interoperability between different platforms and crews is increasingly vital for government and military operations. According to Petrosso, collaborative training has a major part to play in equipping teams for these complex scenarios: "We are seeing an increasing requirement to train personnel in a single virtual environment where teams can work side-by-side and rehearse their operational techniques."
We have created exactly this capability with the development of an Air-Naval Operations Simulation Centre for the Guardia di Finanza – Italy's only maritime police force. The centre, located at Pratica di Mare Air Base close to Rome, is the only one of its kind in Europe and includes some of the most advanced and innovative technologies in the simulation field.
The facility provides a single virtual reality environment that features all-new 'mini motion simulators' based on the AW139 and AW169 helicopters as well as the P-72B maritime patrol aircraft. Crews also benefit from an Enhanced Training Device (ETD e-Motion), alongside rear crew training using the Leonardo Airborne Tactical Observation and Surveillance (ATOS) mission system. In addition, the facility enables crews to rehearse maritime missions that also involve ships and uncrewed air systems.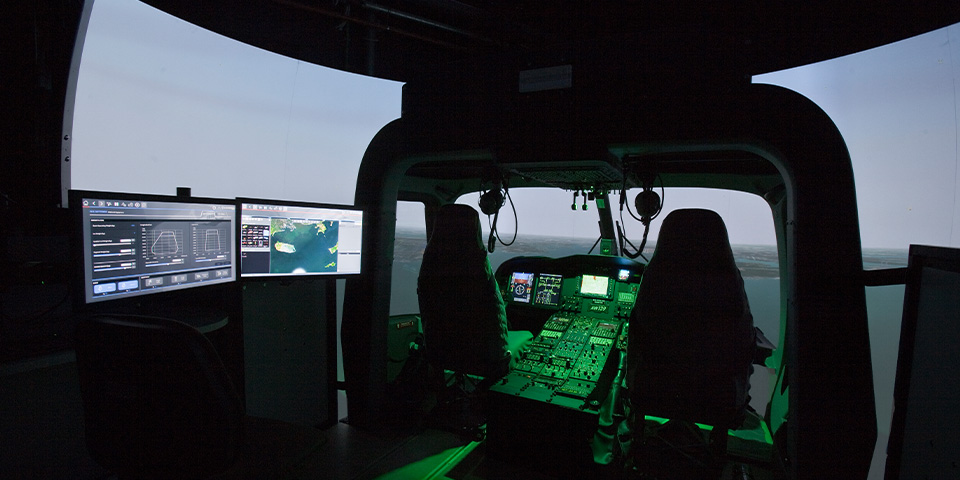 This project also represent a clear example of several Leonardo Divisions contributing multiple capabilities in an integrated environment, one of the key advantages of our company value proposition to customers.
Delivering training locally
Technological innovation is also enabling more training to be conducted remotely. The Covid pandemic only accelerated this trend. Petrosso explains: "We know that customers increasingly want access to training close to their operations – a local service but with access to wider expertise.
"We are therefore enhancing our training capabilities through local partnerships to create an agile network of smaller training facilities that are more accessible. One recent example is in Japan where a partnership agreement will enable AW139 instructors to be trained in-country and then to offer localised training for the Japanese market."
The importance of people
The investments we are making in training technologies are fully in line with Leonardo's roadmap for the future, Be Tomorrow – Leonardo 2030. One of the key pillars of the plan is to be a driver of innovation, which is highly relevant in terms of how training activities will evolve in the future.
Petrosso underlines that innovation is ultimately about people: "We have unique expertise within the business that spans that whole development of the helicopter platform from early development and flight testing right through to in-service support and training systems integration. Having access to every piece of flight test data, for example means that we can channel all these insights into creating training technologies that deliver enhanced capability, greater operational effectiveness and the highest levels of safety. This is our commitment to customers – to put them at the heart of everything we do."