When an emergency call comes in, helicopter rescue crews must be ready to respond anywhere, day and night and in all weather conditions – from the high mountains to the open ocean to challenging urban locations. MITHOS, our Modular Interactive Trainer for Helicopter Operators, is a cutting-edge training device that allows crews to recreate real-life missions in a fully immersive and safe environment, enabling them to hone their skills and test their response to unexpected events.
Senior Rear Crew Instructor Julien Eymard, who trains students on MITHOS, explains: "Rescue operations rely on teamwork and close co-ordination between all members of the crew. MITHOS is specifically designed to recreate Hoist Operations and brings together two complementary simulation technologies – the use of virtual reality and a 1:1 size mock-up cabin equipped with a rescue hoist system.
"Through MITHOS, we can offer operators a complete training programme that spans ab initio training for hoist operators and rescuers through to advanced scenario-based training.
"For example, students can practise basic operations such as 'voice marshalling' that is essential to effective communication between pilots and cabin crew. This would previously have taken place on a real aircraft. MITHOS can also simulate highly demanding scenarios such as confined area operations. There are clear benefits in terms of safety and also training efficiency – we are able to reduce live flying hours by around 40% and this figure could increase further in future."
MITHOS is already embedded within the Guardia di Finanza's simulation centre at Pratica di Mare located close to Rome.
A fully immersive experience
When a student steps into the MITHOS cabin mock-up they are fully immersing themselves in a virtual world. Latest generation VR goggles produce a 360o panorama that includes mountains, trees, buildings and the ocean depending on the mission profile. Smart touch gloves and sensors fitted to students' feet provide physical feedback that mirrors exactly a real-world setting: "We are developing student cognitive skills to improve muscle memory," says Eymard. "When the cabin door opens in the real world, it opens in the virtual world too. When the student grabs a handle or uses the control panel, they feel the sensation. There is also a cutting system that allows crews to practise cutting the cable in flight if they encounter an emergency situation.
"The ability to train for abnormal events in a safe setting is a crucial advantage with MITHOS. Crews can simulate everything from an engine failure to a scenario where the load is spinning due to downwash. It gives operators the opportunity to fine tune their procedures and their response to each situation."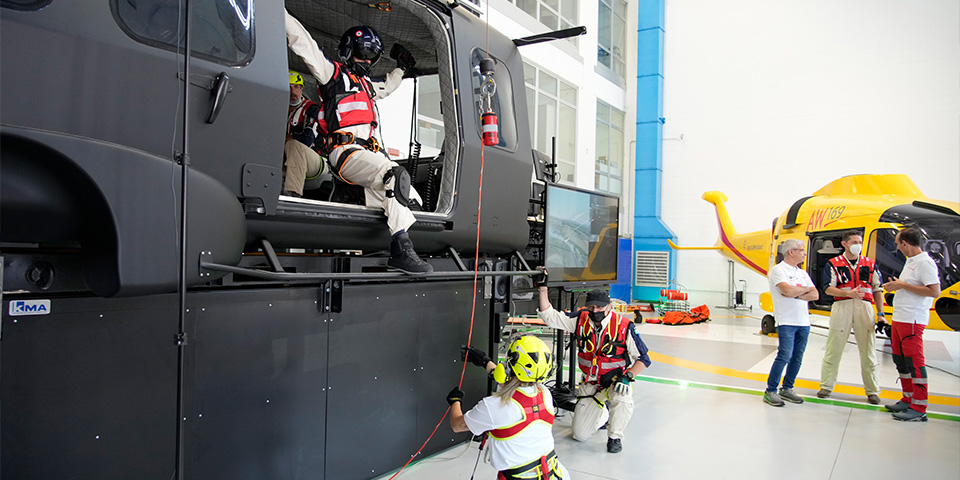 A new era of full-crew training
We know from conversations with operators that the availability of full-crew training is increasingly important because it enables pilots and cabin crew to train as a single and cohesive team.
Over the past year, our Engineering and Customer Support Services & Training teams have been working hard to develop and test full interconnection between MITHOS and our Full Flight Simulators (FFS) based at the Training Academy in Sesto Calende. Development work is now almost complete and will be a 'game-changer', according to Eymard: "The trials have involved a hoist operator in MITHOS and two pilots in the FFS working collaboratively in the same scenario. They have now 'flown' together for the first time.
This interconnection between the devices will have an important impact on the future of helicopter rescue because it will transform and enhance how rescue crews train. It will make the full-crew training concept a reality and enable operators to conduct ab initio, recurrent and advanced training in a way that has a hugely positive impact on mission effectiveness, safety, and training costs."
Creating a seamless connection between MITHOS and the FFS has presented many technical challenges. These have included ensuring that data can be transferred between devices securely and that the different technologies, such as VR, can 'talk to one another' successfully across the two devices.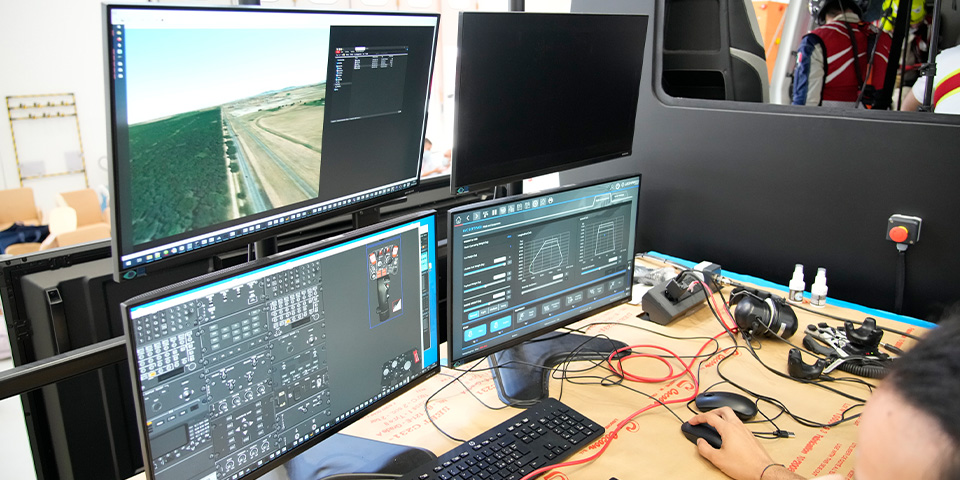 Strategic investment in training
Fabrizio Peano, Head of the Leonardo Helicopters Training Academy in Sesto Calende, says that interconnection between training devices is at the heart of the training and simulation organisation's vision to create a unique training environment that connects across geographies. "Right now, the MITHOS and FFS devices in Sesto Calende are connected via cable, but for sure we envisage in future the ability for devices in different geographies to be interconnected, to a create a new dimension in training.
"One of the great strengths of Leonardo is that all our training devices at every level of complexity are developed using original helicopter OEM data. This means that the simulators fly exactly like the real aircraft, and we have complete control over every aspect of development. This is particularly important when looking at future interconnection."
He adds: "Ultimately, we are investing to help make helicopter operations worldwide safer and more effective. That is our responsibility and something that we strive for every day."