Improving situational awareness and reducing crew workload are two of the biggest challenges facing today's helicopter operations in a world of ever evolving technology. Leonardo Helicopters has developed the HELIAWARENESS Mission Management System (MMS) to enhance mission effectiveness by providing crews with a single integrated picture of the operating environment.
HELIAWARENESS brings an added level of capability by enabling complete integration of an array of mission sensors on board our helicopter platforms. It is designed to support Tactical Flight Officers (TFO) / payload operators who are called on to manage and analyse an increasing volume of complex in-flight data, enabling them to focus more on the tactical environment.
"Modern helicopters rely on sophisticated sensors to support all types of missions from law enforcement to search and rescue," explains Leonardo Helicopters Marketing Specialist Antonello Forcati. "The challenge and key capability is the integration of these sensors without overloading the crew, for a better and more coordinated use of cockpit and cabin resources, where the pilot in command has fewer distractions and a safer flying environment while the payload operator is able to work with a better tactical product.
"This where HELIAWARENESS can be a valuable tool for operators because it fuses the data from sensors such as radar, ElectroOptical Sensor (EOS), Automatic Identification System, and Mobile Phone Detection and Location System (MPDLS), where the relevant pieces of information are extracted and combined together through connected and coherent data into a common, real-time picture that makes life significantly easier for the crew. It aids crew decision-making because they have fast, accurate data available to them immediately.
"HELIAWARENESS is also very flexible because it is developed using open system architecture which enables the MMS to be customised to the bespoke requirements of each customer."
Enhanced capability for multiple applications
Rather than being developed for a specific helicopter type, HELIAWARENESS is scalable across different Leonardo Helicopters platforms, including the AW109Trekker, AW169, AW139, AW189 and AW101.
The MMS is certified for both civil and military applications and It is already in-service with multiple customers supporting effective search, surveillance, evidence gathering, and tactical operations for roles including law enforcement; search and rescue; Intelligence, Surveillance and Reconnaissance (ISR); border protection; firefighting; environmental protection; and disaster relief.
While HELIAWARENESS can be applied to meet a variety of civil and military missions, Leonardo has also developed a specific solution that is dedicated to the maritime domain – in the shape of the Airborne Tactical Observation and Surveillance System (ATOS). ATOS brings advanced situational awareness to maritime missions by meeting maritime patrol and surveillance requirements.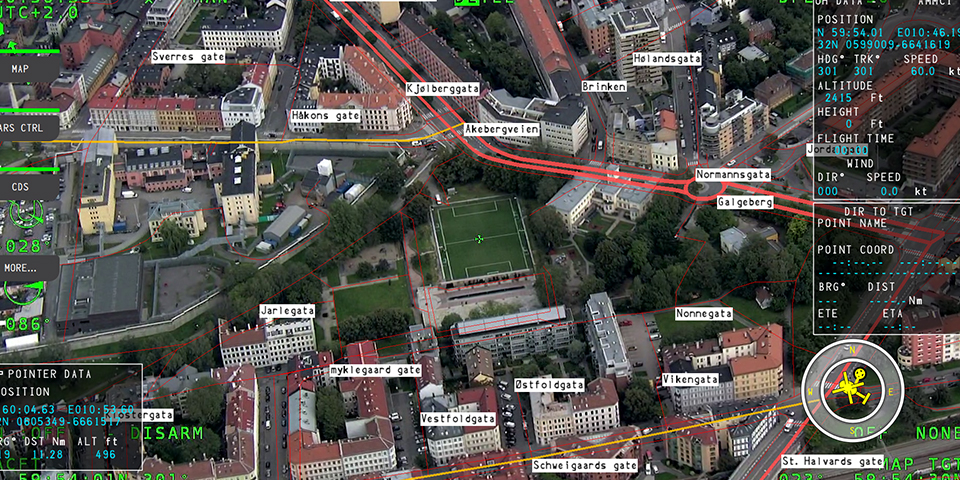 How the system works
HELIAWARENESS can be integrated into a wide range of Leonardo cabin consoles to meet specific customer requirements, including single and dual display versions that can be complemented with a wireless tablet to support a second role sensor display in the cabin.
As well as HD 2D and 3D mapping, there are a number of innovative features. For example, the MMS uses an advanced augmented reality system which enables crews to overlay geospatial information such as roads/streets, addresses and AIS data onto the live camera video stream. This seamless integration between the camera and mapping systems gives crews significant tactical advantage, allowing them to navigate rapidly to an unfamiliar location, quickly identify a target place, vehicle or ship and then send that information as a waypoint to the Flight Management System if required.
The operator can also create and edit mission entities (points, circles, polylines, pointer) interactively via the moving map. Flight plans, search patterns and navigation data retrieved from the FMS are presented in a dedicated layer.
When the aircraft is operating in degraded conditions such as low visibility caused by fog, the system uses video processing algorithms to enhance images and highlight important details within complex scenarios, giving crews much improved situational awareness. HELIAWARENESS also enables the transfer of mission log files with flight information, screen snapshots, video clips and operator notes to other assets in flight or on the ground via datalink.
Meanwhile, as the influence of Artificial Intelligence (AI) continues to grow, the MMS has been designed with growth capabilities, including an AI-based Automatic Target Recognition sensor that can recognise a pre-defined set of objects such as people or cars, analysing available video frames in real time.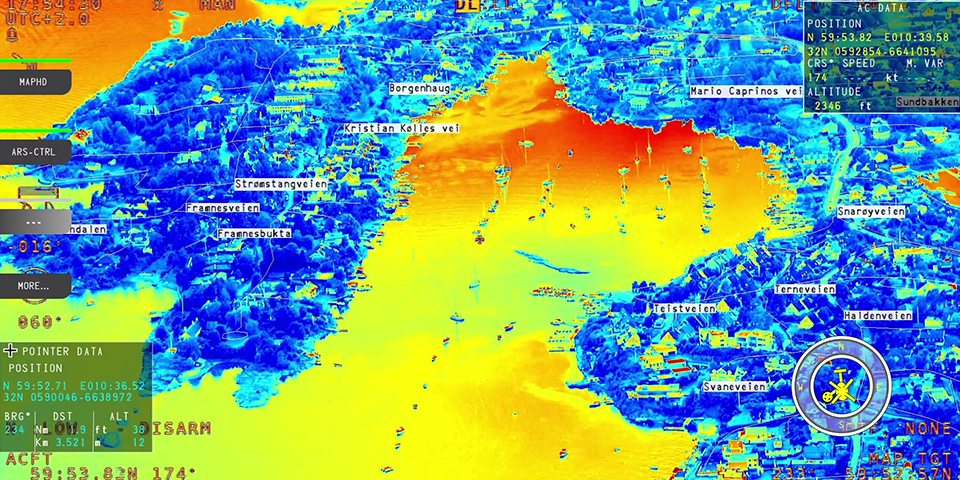 Leveraging our avionics heritage
Leonardo Helicopters has a strong heritage in avionics with decades of expertise in avionics development spanning both the civil and military markets. We have applied this knowledge to develop HELIAWARENESS as an end-to-end solution, as Forcati explains: "One of the advantages we have is the in-house capability to manage every aspect of system development right from the earliest conceptual stage, through design and development, testing and certification, entry into service and finally any upgrade requirements. The customer can also have input at each stage based on their specific needs.
"This means that we deliver the helicopter to the customer fully equipped with the mission system in place rather than providing a 'green' helicopter that needs to go through a separate completion centre process.
Final thoughts
Forcati believes that rapid advances in technology present opportunities but also challenges for crews: "Of course the technical capabilities of HELIAWARENESS are important, but really for us the purpose of developing the system is about helping crews to perform their mission more effectively. We are providing them with a 'brain in the sky' – a powerful tool that frees them up to concentrate on the wider tactical scenario."