Development of our AWHero tactical RUAS is entering an exciting new phase with confirmation that the platform has moved from the basic design stage into Concept of Operations (CONOPS) configuration. The milestone, announced at the Seafuture 2023 event in June, encompasses a series of important enhancements including new powerplant, airframe modifications, and advanced sensor modularity.
The 200kg-class, military-grade AWHero became the first RUAS in its class to gain certification from the Italian military authorities in late 2021. Since then, development work has continued at pace and the platform has matured significantly with a particular focus on operations in the naval domain, a key market for the product.
We have also applied lessons learned from AWHero's participation in the OCEAN 2020 initiative – the European Defence Fund's strategic research programme for naval surveillance technology and maritime safety. Led by Leonardo, the programme involved 43 organisations from across Europe focused on uncrewed systems capability demonstration.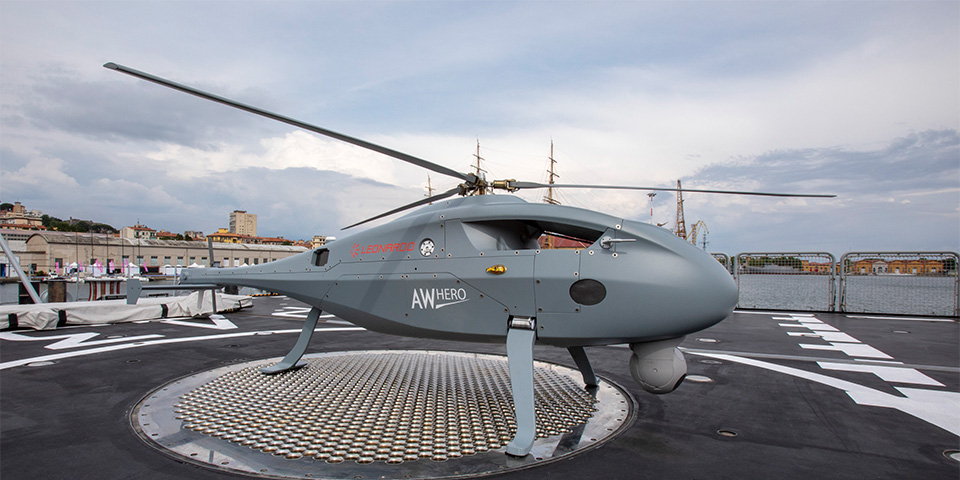 Towards operational readiness
The CONOPS configuration is an evolution of the existing AWHero basic design and retains core elements such as the rotors, transmissions, avionic systems, flight control system, datalink architecture and ground control station.
Key enhancements include:
New powerplant: AWHero's new heavy fuel powerplant is a twin-engine solution based on a proven, in-service core engine design. The powerplant targets improved efficiency, safety and higher Time Between Overhauls (TBO). Increased TBO is particularly crucial for embarked operations and is designed to reduce the maintenance burden on board the ship as much as possible.
Modified airframe: The new carbon-fibre fuselage is optimised for the heavy fuel powerplant and maritime radar which is now fully integrated into the nose of the platform, enhancing aerodynamics. The airframe changes enable an increase in payload bay capacity that also allow better access to systems to improve maintainability and enhanced sensor modularity. The new landing gear allows to maximise EO/IR field of view. The modifications also improve the platform's on-deck stability and controllability for take-off and landing.
Sensors: AWHero can be deployed for a multitude of missions thanks to its modular multi-payload design that allows sensors to be exchanged while embarked or in the field. Uniquely in its class, AWHero can integrate a true maritime radar in the form of Leonardo's Gabbiano TS Ultra-Light Maritime Radar. Rather than being adapted from the land domain, the high-performance Gabbiano radar provides unmatched maritime wide area surveillance providing a series of operational modes for exceptional long-range situational awareness even in adverse weather conditions.
Survivability: The platform features enhanced survivability against rapidly evolving cyber threats, including two levels of resilience to combat GNSS outage including anti-jamming capability and a new Inertial Navigation System (INS) that enables safe continuation of flight if GNSS is lost for a period of time. There is also a dual-redundant encrypted datalink with frequency diversity and increased tail rotor authority for improved shipborne operations.
Optimised for multiple missions
AWHero is optimised to undertake a wide range of missions in both naval and multi-domain operations, including Intelligence Surveillance Target Acquisition and Reconnaissance (ISTAR), Anti-Submarine Warfare (ASW), Electronic Warfare, Communication Relay, Border Protection, Combat Support, and Force Protection.
Roberto Pretolani, Leonardo Helicopters RUAS Marketing Manager, emphasises the importance of AWHero's ability to be integrated with a ship's Combat Management System (CMS): "This seamless integration enables the platform to act as a 'remote sensor' for the ship and to be an extension of its capability.
"AWHero is also the only platform in its class with two high-capacity and modular payload bays, in the nose and underbelly, which allow operators to select different combinations of field-exchangeable multi-sensors according to the task to be accomplished." These sensors can include the maritime radar, Electro-Optical/Infrared (EO/IR), Signals Intelligence (SIGINT), Sonobuoy data relay, Light Detection and Ranging (LiDAR), hyperspectral camera, communications relay, and Automatic Identification System (AIS).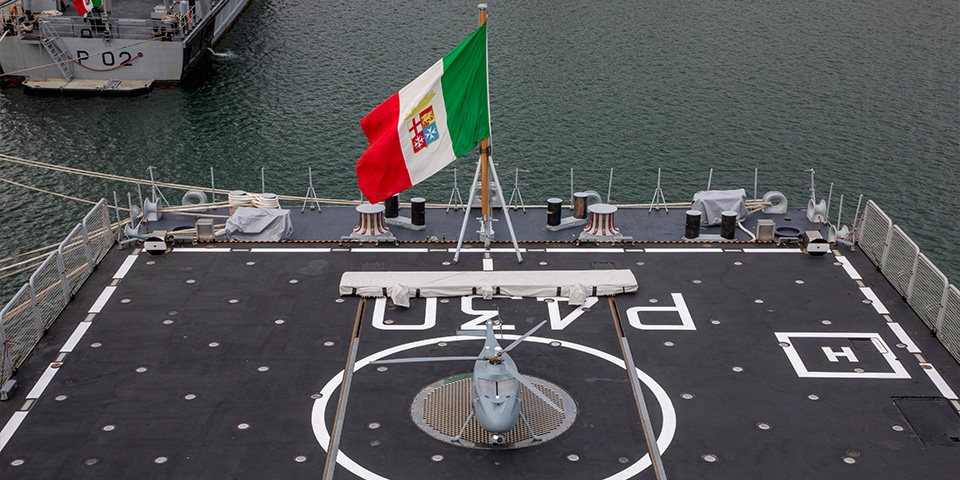 Focus on certification
Following the unveiling of the new CONOPS configuration, Pretolani says that the programme's focus in the coming months will be on gaining certification from the Italian military authorities for the modified design with a target to achieve certification and be ready for entry into the market in 2024.
Meanwhile, AWHero will play a central role in Leonardo's forward-looking roadmap as we continue to invest in uncrewed systems and enabling technologies such as automation/autonomy, communications, and sensor integration/fusion to maintain our leadership in vertical flight.