The ability to spot the tiniest defect or hidden anomaly in a helicopter structure plays a fundamental role in safe flight. Despite the increased use of technology, such inspections have traditionally relied on the expertise and keen eye of technicians completing manual visual inspections.
But what if the role of the technician could be supported to take advantage of rapid evolutions in fields such as AI, deep learning and robotics? This is the starting point for Leonardo's AWARE solution. What started life as an idea born from our in-house Innovation Award process in 2020 is now ready to move into a capability assessment and demonstration phase that could change our approach to maintenance and product quality processes.
AWARE is enabling us to replace visual inspections of critical helicopter structures with a fully automated, robotic process that is 100% accurate and provides a complete digital history of every structure under inspection – including rotor blades, tail structure and internal/external panels. Crucially, the innovation is not a substitute for our skilled technicians. Instead, it is freeing up their time to focus on expert analysis of the rich pool of data that is generated by the advanced AI algorithms, developed internally to support the smart inspection process.
Alberto Clocchiatti leads our Digital Services Development team and has been closely involved in the AWARE programme. He explains: "The existing approach to manual inspections can be labour intensive, time-consuming and brings with it the risk of human error.
"We saw an opportunity to develop a smarter inspection process that is data driven, providing a repeatable and completely objective assessment of the structure being analysed."
The focus of AWARE
The solution is based on robotics technology adapted from the automotive industry but the true innovation lies in the sensors and use of AI algorithms developed in-house by Leonardo. The development work has involved not just our Helicopters business but also colleagues in Cyber & Security division and the network of Leonardo Labs – our company-wide incubators for innovation. The result is pioneering in the rotary wing sector.
We now have three technological solutions that can be used depending on the specific inspection regime that is required.
• First is a hand-held multi-spectral device used for localised inspection of internal and external surfaces of a helicopter platform. It is easy to operate and harnesses a multi-spectral video camera to enable technicians to scan specific areas for signs of defects.
• The next level is a cognitive robot on a rail system that is designed to be used in settings such as service centres where process automation is achievable, ideal for blade inspections.
• Thirdly, an Automated Guided Vehicle (AGV) that would be equipped with sensors and be capable of moving autonomously around the helicopter while scanning for anomalies, using intelligent collision avoidance algorithms to stay a safe distance from the structure.
Clocchiatti comments: "All three systems use an innovative set of sensors driven by sophisticated algorithms and are capable of moving around the helicopter and/or elements such as the blades to record both sounds and images.
"There are some very clear benefits. The solution allows us to perform inspection procedures in a precise and repetitive way. We can identify difficult-to-find anomalies, detect corrosion in its earliest stages so that it can be resolved with minimal disruption and we're also able to automate 'tapping test' operations to free operators up for advanced analytics tasks and decision-making.
"We are speaking to customers about the market case for the AGV to understand which are the right use cases. If the demand is clearly defined, the technology is mature enough to progress quickly."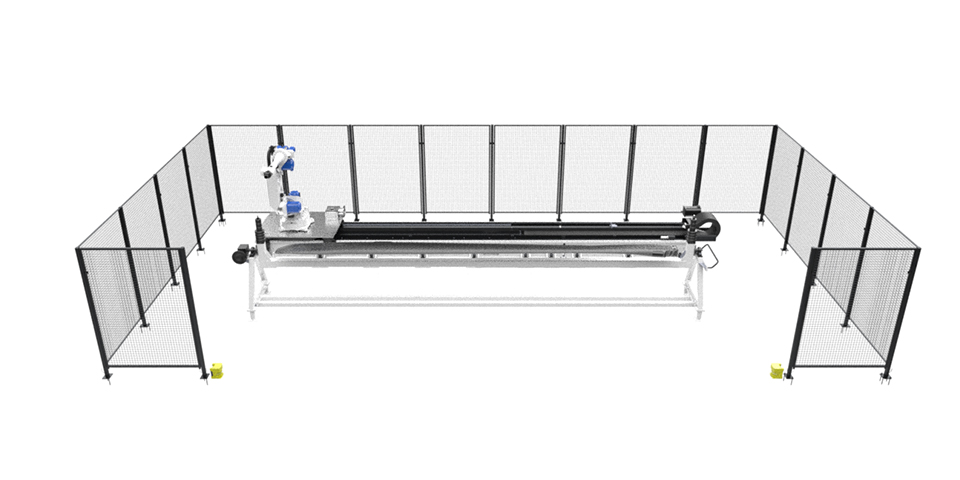 Enhancing the technician's capability
From the outset, we were clear that AWARE would be about enhancing the work of our technicians. They can now tap into a vast amount of data generated that enables them to analyse all structures and interpret the results of the automated inspections.
We are also able to build up a complete digital log of each blade or structure. If a defect is found, the technology renders a 3D CAD drawing that enables operators to understand the dimensions and severity of the anomaly quickly and easily.
Importantly, the operator's activities are simplified thanks to an intuitive and secure Graphical User Interface (GUI) that is easy to use via a browser.
Clocchiatti explains: "AWARE is a really good example of how Leonardo is moving towards a 'digital first' approach. It is part of our wider digital transformation process across the helicopter business and that includes extensive training for our technicians as they adapt to a new inspection process.
"The challenge is not so much about the use of robotics because this technology is well-established, it is more about how we 'engineer knowledge' because the rich data generated by automating the inspection process requires deep analysis by subject matter experts to improve both products and services over time.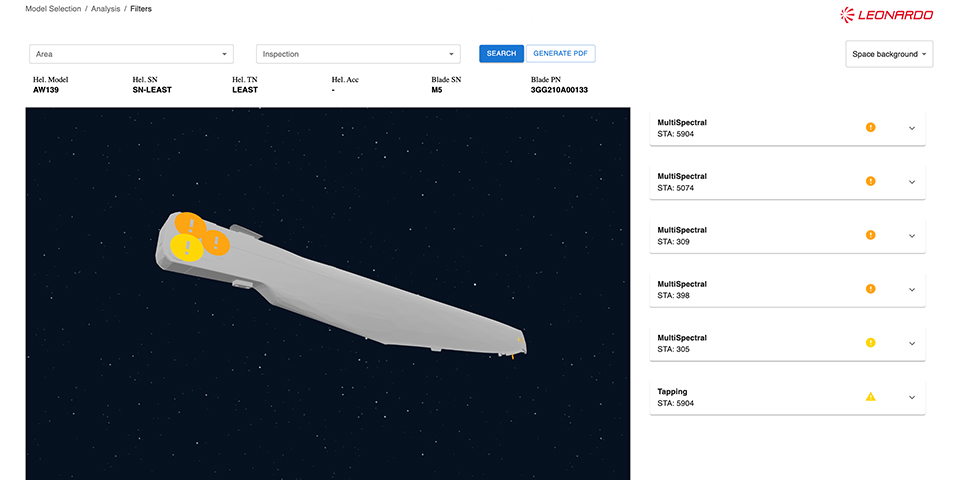 Where the technology is being used
The automated inspection process is currently tested at our Blades Centre of Excellence in Anagni and as the next step we are looking at the possibility to introduce the technology to our Blades MRO Centre in Louisiana, USA.
Clocchiatti concludes: "We are committed to an open innovation process that draws on expertise from inside the business and from external partners. We will continue to search for ways to simplify our operations using digital solutions so our products remain at the forefront when it comes to safety and quality."