The Cormorant Mid-Life Upgrade (CMLU) Project will address obsolescence issues, ensure compliance with emerging airspace requirements, extend the life expectancy of the fleet to 2042+ and provide the option to augment the fleet, enabling the return of Cormorant helicopters to the Main Operating Base (MOB) Trenton. The majority of the CMLU work will be performed in Canada, primarily at IMP's Halifax, N.S. facilities.
July of this year marks the first operational flight anniversary of the Cormorant, which took place in 2002. It involved a medical evacuation of a sailor from a freighter 200 km (110 nm) off the coast of BC.
Since the first delivery of the CH-149 Cormorant helicopters in October 2001 to Comox, BC; the Royal Canadian Air Force (RCAF) has been performing thousands of life saving missions throughout Canada, from the peaks of snowy windswept mountains, the east and west maritime coasts, to the high Arctic as well as internationally – providing humanitarian support. The fleet has now achieved in excess of 100,000 flight hours.
The Cormorant helicopter and its RCAF crews have served Canadians with exemplary service over the past 20-years, and this continues as evidenced during recent missions, such as the rescue of 31 people from a sinking offshore scallop dragger off the coast of Nova Scotia in 2021. The Cormorant was part of a fixed- and rotary-wing team that supported this critical rescue operation.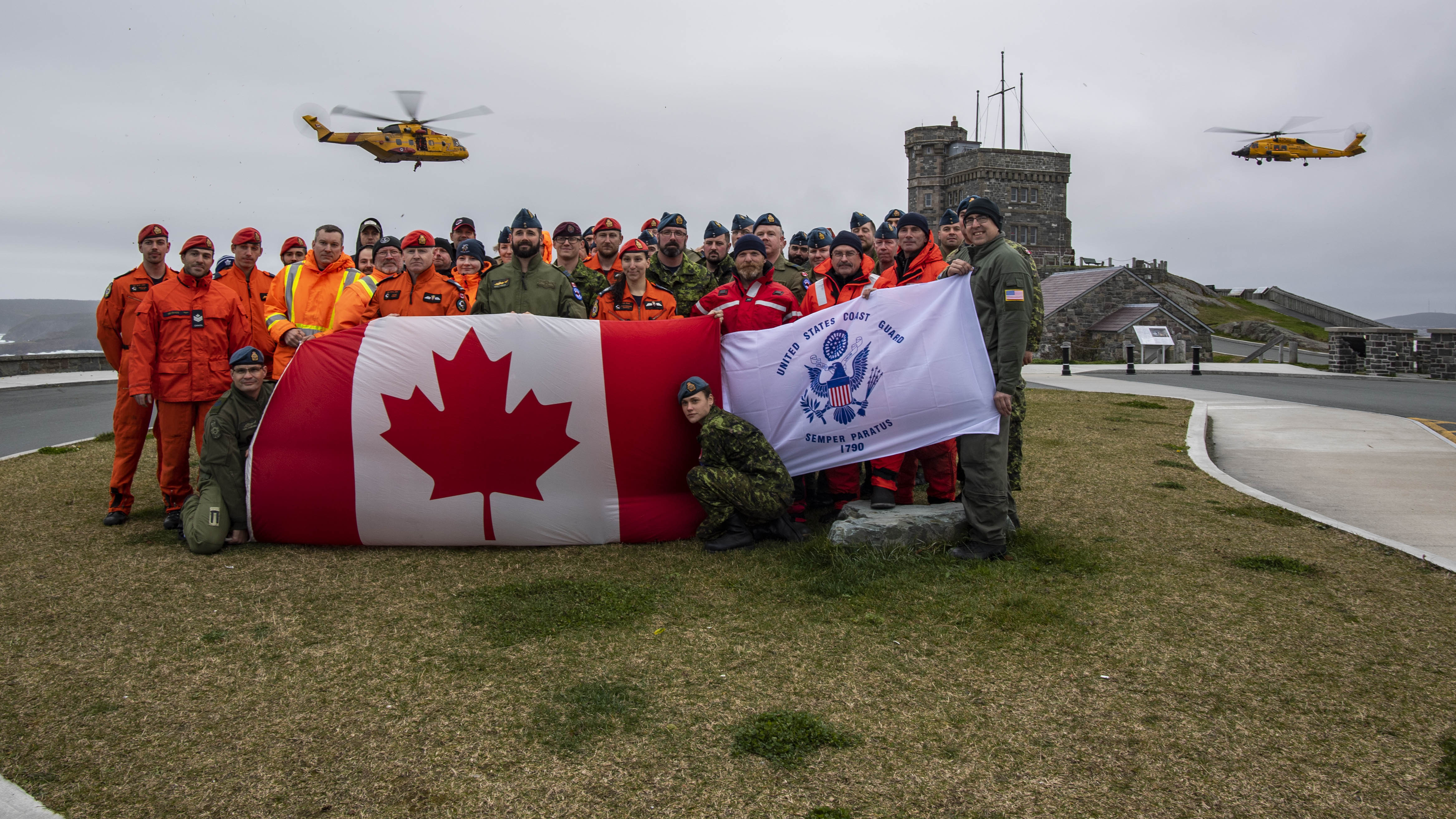 Members of the RCAF's 103 Search and Rescue Squadron and partners for U.S. Coast Guard Air Station Cape Cod during a joint training mission in St. John's Newfoundland
Further testament to the RCAF crews and Cormorant helicopters is the SAR mission conducted by three CH-149 helicopters from MOB Comox in November 2021. Following unprecedented landslides that occurred near Agassiz, British Columbia, hundreds of travellers were stranded and required immediate airlift evacuation. With expert coordination, the Cormorant crews orchestrated multiple landings on a congested and debris-covered Highway 7 in deteriorating weather with gale force winds. With daylight waning, the evacuation of 311 people, 26 dogs, and 1 cat was successfully undertaken.
From the first mission in 2001 to 2022 SAR operations, operational success is only possible due to the ever-evolving capabilities of the Cormorant alongside the hard-working crews who operate and support the multi-role medium-heavy three-engine helicopter.
The CMLU Project will transition Canada's AW101/CH149 "Cormorant" SAR helicopter fleet to the latest standard currently being delivered for SAR in Norway and arguably the best search and rescue helicopter in the world.