Gen. Jassim Mohd A. M. Al Mannai, Commander of the Qatar Emiri Air Force, visited the Italian Army Aviation's Base in Viterbo on 28 June. On 27 June, he attended an overview of Leonardo's helicopter industrial capabilities at its Vergiate site in Italy.
In Viterbo he was welcomed by the Italian Army Aviation's Commander Gen. Andrea Di Stasio and Paolo Petrosso, VP Helicopter Simulation and Training Services at Leonardo. Gen. Jassim Mohd A. M. Al Mannai also met with Qatari personnel involved in the training phase. In addition to the flight and aeronautics subjects' instructors, who have accrued 2,200 flight hours and trained 16 Qatari crews to operate NH90 helicopters over the last few years, this has been supported by a strong partnership with Leonardo.
According to Paolo Petrosso, "this unique combination of the Italian Armed Forces' operational excellence and Leonardo's industrial expertise in the rotary wing training and simulation sector is invaluable to deliver the best training to operate state-of-the-art platforms and systems for international personnel.
Gen. Al Mannai thanked the Italian Army Aviation and Leonardo for their support and for the high level of training achieved by the Qatari crews. He highlighted a willingness to continue this training collaboration, not just for the basic training in Qatar, but also for advanced training at the Italian Army Aviation's Training Centre.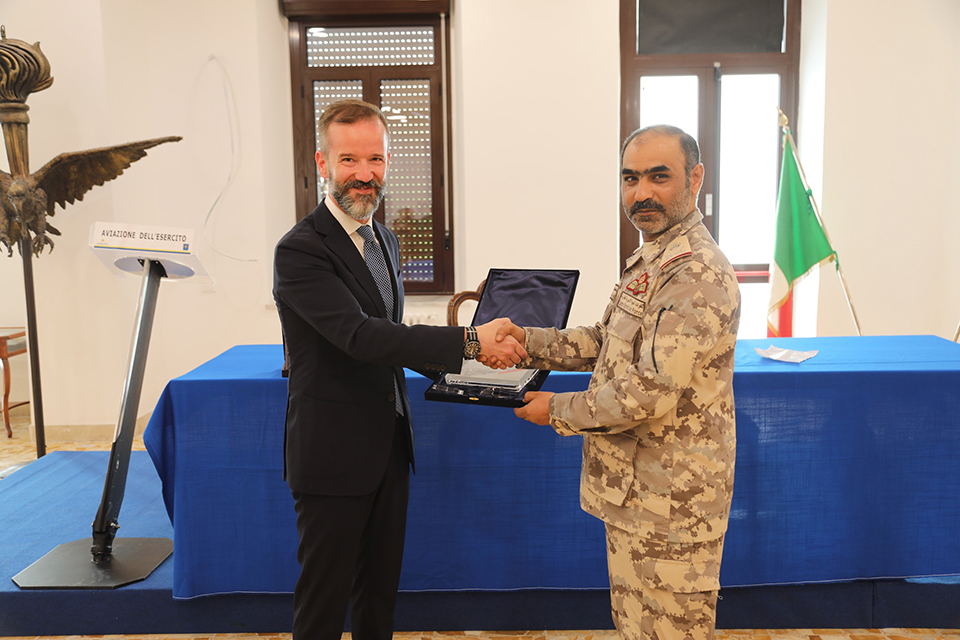 Crest exchange between Commander Al Mannai and Paolo Petrosso, Leonardo.

Qatar's NH90 programme includes 16 NH90 TTHs for land operations, 12 NH90 NFHs for naval missions, a comprehensive support, maintenance & training services package and associated infrastructure. The programme has the potential to be extended in the future with the addition of 6 + 6 units in a mixture of TTH and NFH variants. Leonardo is prime contractor for the overall programme and is also responsible for the final assembly and delivery of the 12 NH90 NFH helicopters from its Venice Tessera facility. The company is also supplying simulators, training aids and an extensive maintenance support and training services package for aircrews and maintenance technicians. Leonardo is providing, contributing to or supporting the integration of various avionics and sensor payloads, including the Leonardo LEOSS-T HD electro-optical system, HD Mission Video Recorder, Automatic Identification System, Tactical video link and Full HD display for cabin consoles. Airbus Helicopters is responsible for carrying out the final assembly of the 16 NH90 TTH aircraft. Deliveries started at the end of 2021 and will continue through to 2025. In addition, the Italian Navy is delivering a significant contribution to Qatar's personnel training for the naval NH90 programme.